Backup and Restore
Your data is safe because the Simple Invoice software provides feature to backup and restore.
Go to main menu and select Tools -> Backup.
There are two options to make backup in program: Manual and Automatic.
In Manual mode backup is creatd only when user use "Backup Now" button.
In Automatic mode program makes backup every time when exit program. This is recommended option.
Perform a backup while the program is running. Additionally, automatic mode allows to make backup also when program is running. You can set interval in minutes.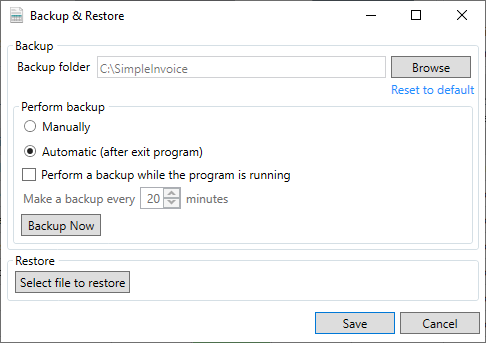 Backup folder
By default backup files are stored in
C:SimpleInvoice
folder, but you can specify different folder.
Backup files are arranged in folders named date like eg. 2019-09-01.
Restore option is very easy, just clik Select file to restore button and select backup file to restore. Note that your current data will overwritten and lost.

Move data to another computer.
If you need move your data to another computer you can use restore option for this purpose. Just make backup on old machine and move this file to another computer. Install the Simple Invoice software and use restore option on your backup file. After restore finished your data will available.
Store data on external drive or in cloud
Since 3.18.1 version you can set backup path to external drive, pendrive, google drive, one drive, dropbox etc. and make restore directly from these locations.