Discounts
The Simple Invoice software supports discounts to individual items as well as to the total of the invoice. To add discount for particular item use discount column. You can use only fixed amount, percentage discount is not available.

If you want apply discount to the total of invoice you can use Discount Button.

You can configure discounts in Configuration. For exaple to add 10% discount to invoice, customize in settings: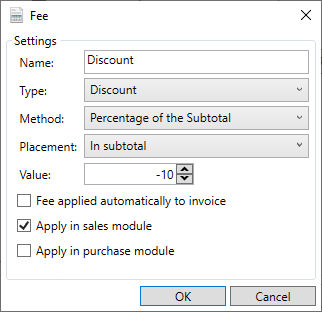 Discount will appear on invoice in summary:

Percentage discount
If you need show percentage of discount on invoice you can simply change discount name to eg. "Discount 10%". But every time you change discount value you have to also change name yourself.