Invoice
In this place you can customize text on invoice. You can also set numeration format and enter some messages displayed only on invoice.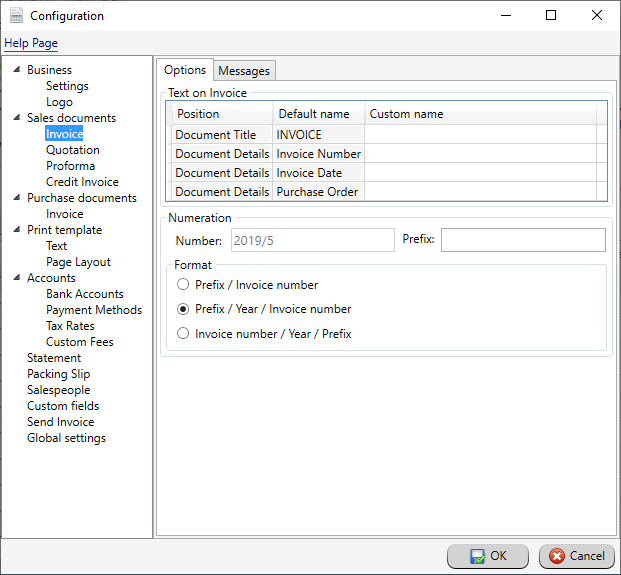 Numeration
Simple Invoice software provides four types of documents: regular invoice, quotation, proforma and credit invoice. Each of them has own numeration. You can specify how to numbering your documents from three available numeration types:
Only number. eg. 120
Year / Invoice number. eg. 2018/01
Invoice number / Year. eg. 01/2018
Optionally you can also set prefix for numeration:

Starting number
If you already have been using a different invoicing program and therefore will have an existing invoice numbering system, you are allowed to set initial number. To do this,
during create first invoice
in document detail window select

button next to invoice number. In new window select numeration type you want to use and change initial number.For example your last invoice number in prevoius invoicing software was 120, so select numeration type (first type) and enter next number as 121. Now all subsequent invoices numbers will automatically increment by one each time you make a new invoice.
Messages
Use messages if you need show some additional informations on invoices. There are two places - upper and bottom message. On screen below you can see position of them. Text can be decorated by different font family, font styles, sizes, text align and colors.