Tax rates
Configure your tax rates. Use Add button then enter name and percentage. Tax rate set as default will be your default tax rate when adding new product. Tax rate set as inactive will be not available in dropdown in product details view.
Multiple tax rates
You can apply to three different tax rates to your item (product). When you select Use tax rate 2 option then you will allowed to apply second tax to your item. Simmilar with Use tax rate 3 option which allow you to apply thirid tax rate to item.
If you work in multiple tax rate mode on invoice view will available additional columns to edit tax 2 or tax 3. Similar in product details view will available additional drop down to apply second and third tax to item.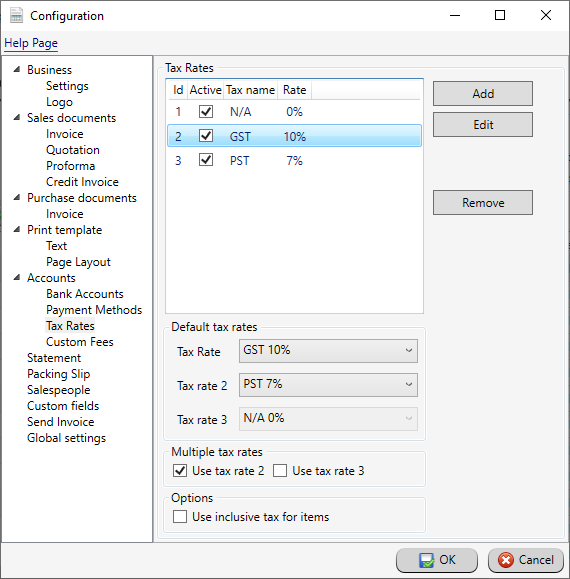 Inclusive or exclusive tax method
In default tax applied to item is not included in the rate (to price of product). If you need include tax in the rate just select Use inclusive tax option.
N/A rate
N/A rate (not aplicable) this is ZERO tax rate (tax is not applied to your item). You are not allowed to edit or remove this rate. This rate is used only when you do not want to apply tax to your item.